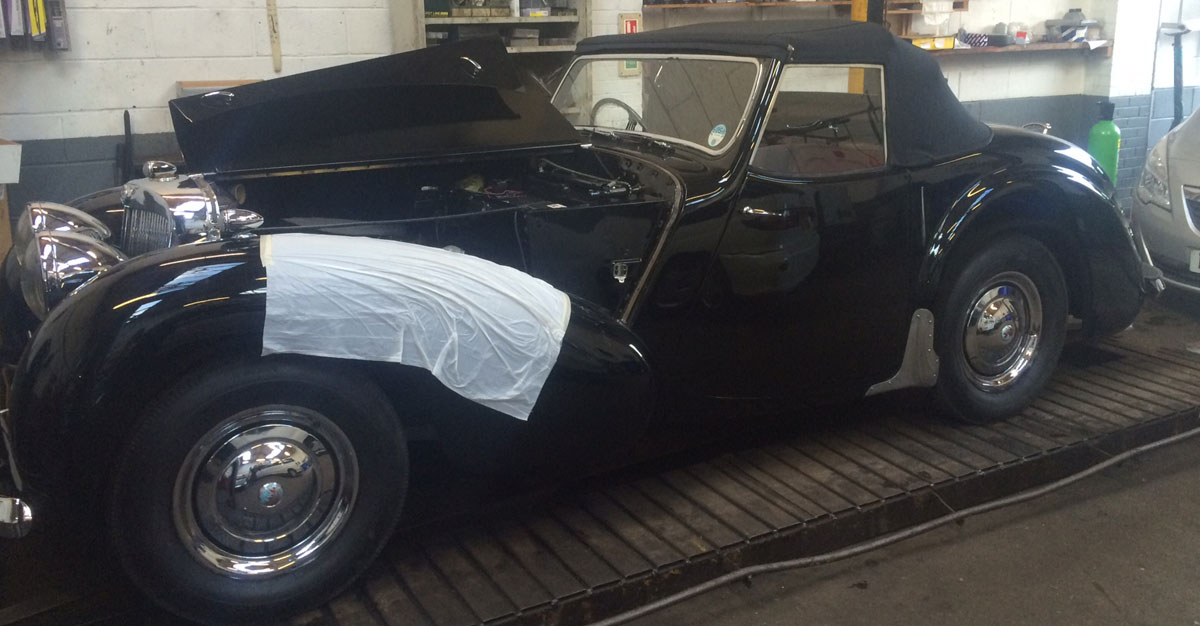 About Nigel Grant Motor Engineer And Racing Team
Nigel stared his working life as an apprentice at Manchester Garages, Ford Main Dealers, after attaining a full City and Guilds qualification he left to work at a large car body repair shop learning skills that would help him when he later started his own business.
Nigel Grant Motor Engineers have was established since 1988. We have a strong customer base with many customers still supporting us after 28 years.
Nigel Started the garage in 1988 originally based in The Yard, Dorchester Road, Swinton. The business started to out grow these premises and moved to its present location at 2 New Cross Street in 1992, this is where the company remains today.

Nigel Grant Motor Engineers are extremely proud of their workforce and aim to maintain cars "the old fashioned way" with properly qualified staff who show respect for the customers and their vehicles.
Nigel started rallying in 1982 in a Mini Cooper S that he modified himself and he had a reasonable amount of success with it, he moved on to rally a Ford Escort RS2000 by 1985.
Nigel had bought an Austin Healey 3000(Big Healey) in 1983 and had rebuilt it as a racing car. In 1985 he competed in the "Austin Healey Road Going Championship" finishing runner up. in 1986 he won it and in 1987 he finished runner up again but he didn't compete in all the rounds.
After a brief drive in a friends Lola Sports 2000 Nigel bought a Delta FF2000 and started to compete in the 2004 Classic F3 Championship after rebuilding the car and spending a season getting use to single seater racing he won the FF2000 class in 2006 beating all the cars in the then Delta Team.
Although Nigel competed and gained some podium results over the next few seasons including a double race win he never competed in a full championship again.
Nigel's son Callum had been competing in motocross from the age of six and started karting when he was 11. He did extremely well in club events racing with a budget much smaller than the professional teams and finished second in the only 2 championships he competed in.
When Callum was 15 Nigel bought a Merlyn Historic Formula Ford 1600 and they spent the time before his 16th birthday preparing it for him to race after his GCSE exams in 2011. He finished 5th in the last race of the season at the HSCC Finals at Silverstone.
For the 2012 season Nigel and team worked hard on the car and got it ready for testing at the beginning of February. At the first race of the year at Donnington Park to the surprise of everyone in the team Callum took pole and a win in front a very competitive field. Callum went on to win several races in 2012 and finished on the podium at nearly all of them. This lead to him winning the championship 3 races before the end of the season, the youngest ever champion in the HSCC.
At the end of the 2012 season Nigel Grant Historic Racing Team helped a young driver called Max Bartell who also drove a Merlyn 20a. With Nigel and team developing the car and Callum helping Max as much as he could.
2013 Callum moved into the Formula Ford 2000 Class with Nigel's Delta where again he finished on the podium at almost every race and an outright win at Snetterton but ended up finishing runner up in the championship. They took the Merlyn out as well winning the Oulton Park Gold Cup. Max was improving throughout the season with some fantastic top 10 finishes.
Callum started the 2014 season with John Sykes a great friend of the family lending Callum his Historic Formula Junior which was the Ex Dennis Welch 'Magic Merlyn' which won Monaco 3 times in the hands of Dennis. Callum finished 2nd in his first race in the car at Donnington and won the second and third races of the season at Thruxton winning the first race by over 30 seconds and re taking the lap record for Merlyn in the process and then winning the second race by even further in the wet. Max Bartell had his first win at Snetterton in his Merlyn Formula Ford.
2015 and it was back to the Delta FF2000 for Callum, Max entered the Classic Formula 3 Championship in his fathers Chevron. After a season of bad luck Callum finished the championship 3rd in what was regarded as the most competitive year for Historic Formula Ford 2000. Max won the Formula 3 Championship taking a win and was on the podium at almost every race. Callum and Max won their class in Max's Dad's Elva winning 2 races outright in a car that was widely regarded as uncompetitive.
Callum also raced at the prestigious Silverstone Classic in John Sykes "Magic Merlyn" finishing 3rd in both races.
2016, we have a new team member in Neil Shinner multiple Caterham Champion to join Callum and Max in the Historic FF1600 championship.