2017 season roundup
14th January 2018
2017 started of badly when unfortunately we lost a great friend of ours, Bruce Bartell, father of Max he passed away early January. Bruce will be greatly missed and has left a huge hole in all of our hearts.
April- Donington Park,
After a cold winter we had rebuilt Neil Shinners car from a new chassis and was in all new colours, with his brand new car he finished 15th out of 55 cars which was a fantastic result first time back in the car. Callum had a fantasic race fighting from 5th through to the lead coming out of the very last corner on the last lap. Nail biting!!!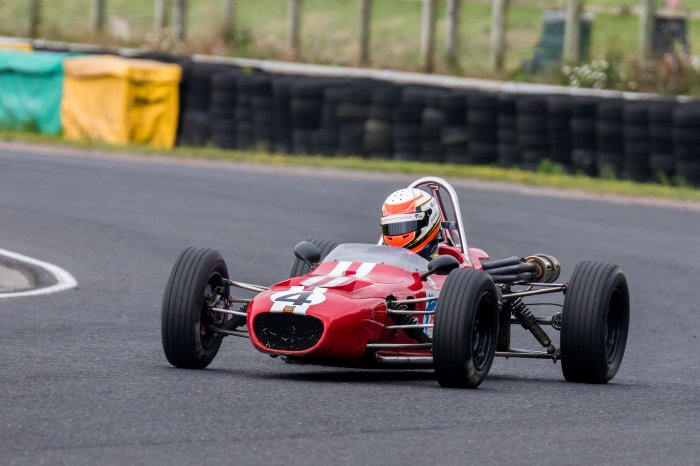 May- Silverstone,
Silverstone was a terrible wet day and the race should not of been run with many competitors pulling off the circuit due to conditions, Callum got into the lead off the line but lost out to Mike o Brien, Richard Tarling and Benn Simms on traction down the straight, Callum chose to bring the car home safe and not damage it which the team were very happy with, Neil Shinner managed a terrific 16th in terrible conditions.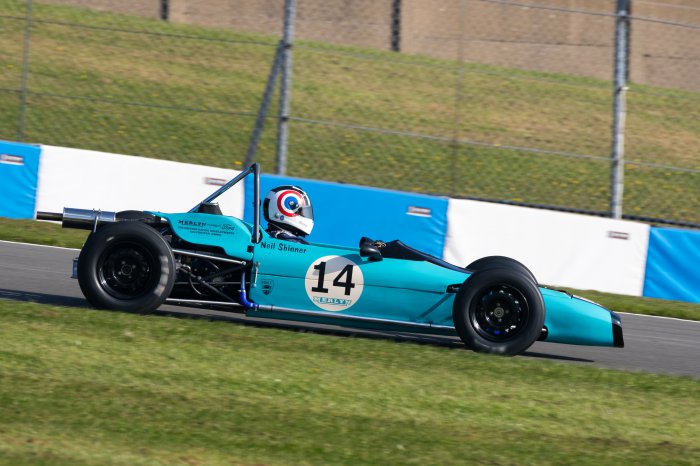 May- Pau Historic Grand Prix,
We took Callum's orange Merlyn and the new yellow Merlyn MK17 for Neil Fowler to drive. In qualifying Neil managed to out qualify the orange Merlyn to 3rd on the grid and Callum 4th. Off the line the two Merlyns stuck together with a 10 year more modern car sitting in second, the two Merlyns made short work of it within two laps. Callum and Neil battled away with Callum just managing to edge ahead by using a slower car to his advantage during lapping. result from race 1 callum won the class with Neil second (second and third overall). Race two Callum got away with the leader but couldn't keep with the leader in a straight line. finishing positions replicated race 1.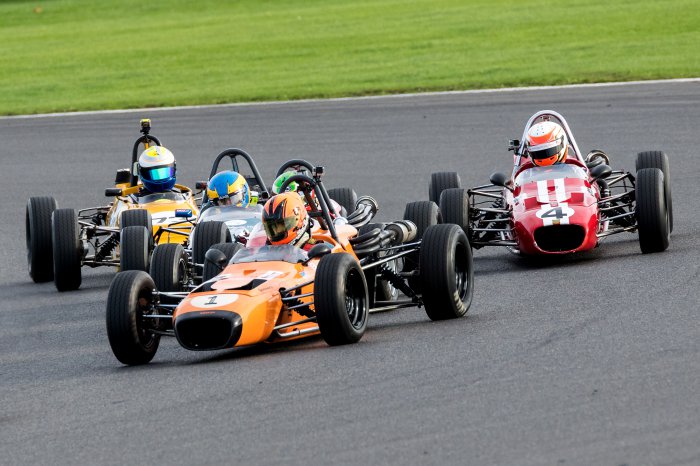 June- Cadwell Park
What a fantastic meeting this was with Callum dominating the weekend qualifying second and winning both races, father Nigel managed a second place in the new yellow Merlyn Mk17, Neil Shinner managed to finish 13th and 12th. Max Bartell had a great weekend finishing 3rd and 6th on his first weekend back racing. Callum also won the Rob Fowler Trophy which was a great honour for the team and family as Rob was a friend and a joy to have around the paddock. Truly Missed.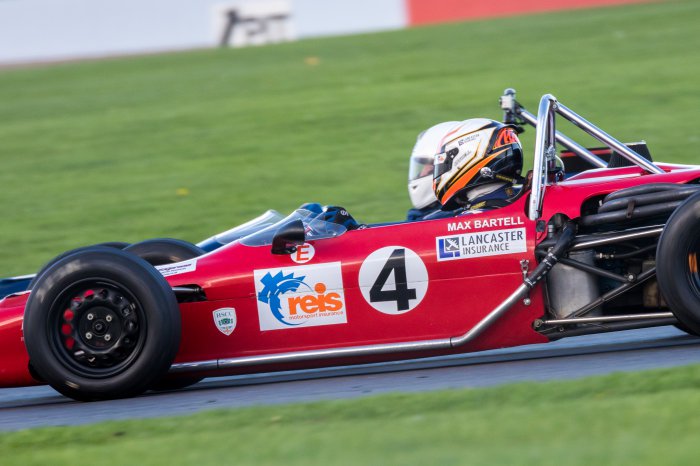 July- Brands Hatch Super Prix,
50th anniversary of formula ford, Callums engine overheated in race one and couldn't climb any higher than 4th and struggling with the same problem in race 2 finishing 3rd. Neil had a run in with another competitor sending him into a spin in race one making him finish 27th from 12th, Max's damper bracket snapped making him finish down in 8th place. Neil managed a great 16th from the back of the grid and max finished a challenging 10th place.
August- Croft,
Leading race one Callum was caught out doing 120mph through Barcroft by a backmarker changing position along side him and pushed him back down to 8th on the last lap. Max Bartell managed a great weekend with a win, two forth. Neil managed to get a 1st, 9th and a 5th. In race two Callum was pushed into the tyre whilst leading.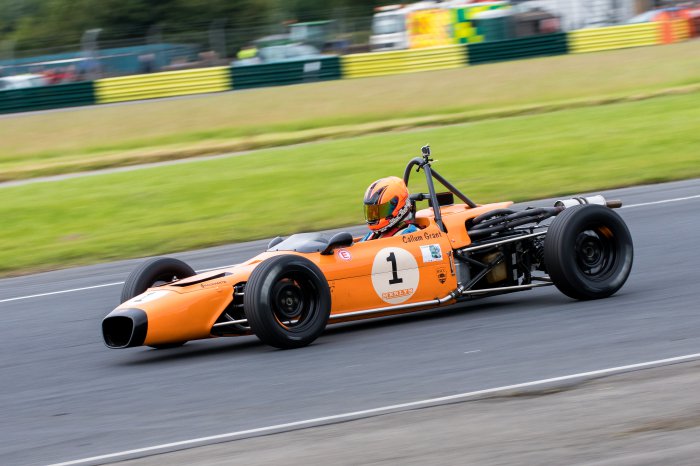 August- Oulton Park Gold Cup,
The first race which was meant to be Sunday was pushed back to Monday due to an accident in another race. Callum unfortunately had been extremely ill al night and was not feeling the best but managed two fantastic scraps with Richard Tarling but couldn't quite sum up the energy to get into the lead and finished 2nd in both races. Max Bartell had a great first race finishing 6th and unfortunately did not finish the second race due to a coil failure. Neil shiner had a great weekend with four solid results to put him in the lead of the over 50's championship, finishing 2nd,13th, 1st and 11th.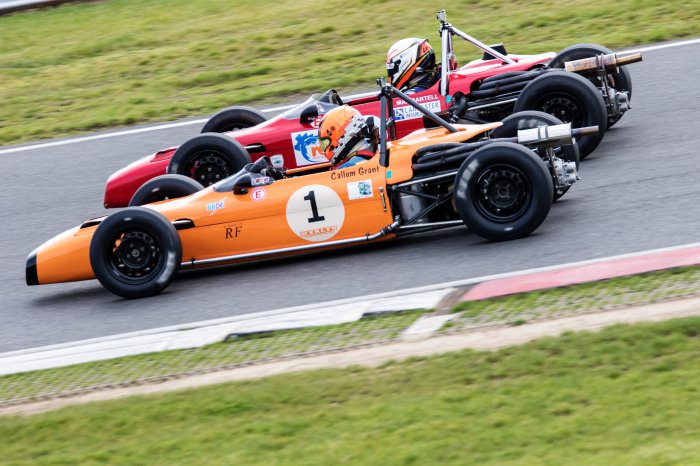 September- Snetterton 200
Qualifying Callum was third, Max sixth and Neil 8th, a fantastic show from all. HFF1600 but two great shows together with over eight cars fighting for the lead at some stages in the race. Race 1 callum lost out on the lead up to the line on the last lap finishing second by 0.013 of a second, Max raced hard for a podium but it wasn't to be finishing fifth, unfortunately Neil had a stone go through the radiator and had to pull off. Race two while Max and Callum were fighting for the lead Callum had a plug lead break and pushed him down the order to 4th, with Max 5th and Neil managed to fight his way back to 13th from the back of the grid which was a fantastic result.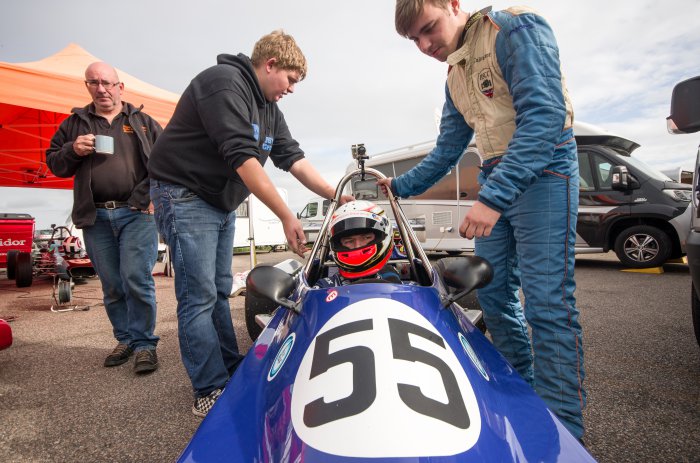 October- Silverstone Finals
With three contenders for the championship Callum one of them and Neil Shinner going for the over 50's championship all was to play for. Race 1 went well for Callum finishing second with a lack of power due to a cracked piston and worn bores, Max was driving well running in third position when another competitor pushed him of the track on the club straight which pushed him well down the field to make him finish 7th. Neil won the over 50's class in race one which meant all h had to do was finish in front of Rob Smith to win in the second race, unfortunately Neil spun when leading his class and dropped down to 10t 2 places behind his rival. Unfortunately Callum couldn't over come the lack of power and dropped down to 3rd in the second race which placed him 3rd in the championship, Max finished the season with a solid 5th place. Callum won the Chris Mudge Memorial trophy for the second year running for the best aggregate result over the two races.
A huge thankyou from all who have helped us this year with special thanks to Raceparts, Brise Starter motors, Nigel Grant Motor Engineers and JB Vinyl Graphics. All pictures taken by Paul Allen who has supported the team the last 2 years.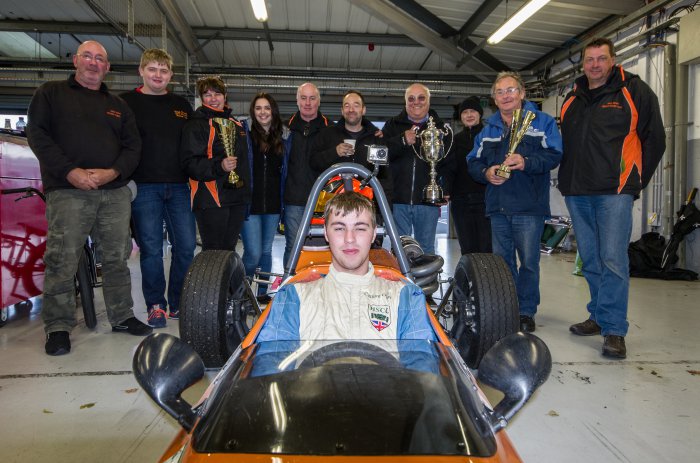 left to right, Nick Jefferies, Jack Butterworth, Janet Grant, Olivia Howlin,
Nigel Grant, Simon Brown, Clive Heywood, Julie Sainsbury, Mike Waite, Peter Robinson and
Callum in the car.


Last edited 15th January 2018.