Round 1 - Castle Combe
5th May 2016
Over the winter Nigel Grant Historic Racing Team, gained a team member called Neil Shinner, Neil is the reigning Caterham Sigmax Champion and has progressed well in testing over the winter. He has bought the ex Mike Wrigely, Jason Minshaw Merlyn mk20.
After a long cold winter it was time to go racing, the first round was at Castle Combe. We had never been to Castle Combe before so we went testing on the Thursday before the event to try and learn the circuit. Callum seemed to get to grips with the circuit rather quickly and set a good pace for the qualifying session on Saturday. Neil was still learning how to drive a formula ford 1600 and came on strongly throughout the day and was lapping within a second of Callum in the last few sessions.
The entry of HFF1600's was enormous at 42 cars so the grid had to be split into two. All the cars went out to qualify together so the track was very busy the whole session. Callum went straight to pole in the tricky conditions but unfortunately due to the amount of traffic was blocked most laps so he could not achieve the time he and the car were capable of so he ended up second. Neil unfortunately had a spin early in the session so only managed to qualify 17th.
For the races the grid was split alternately, which meant pole was in the first race and Callum who qualified 2nd was in the 2nd race, this meant Neil and Callum were in different races. Neil was in race one and made a blinding start and managed to get up to fifth at the end of the first lap were he raced series regulars Will Nuthall and Danny Stanzl. All the way through the race they battled hard till they both just beat him to the line, 7th in your first Historic Formula Ford race isn't bad at all.
Callums race was against multiple champion Benn Simms in a Jamun and Ben Tusting in a Merlyn, unfortunately Simms had a lack of power and couldn't keep up with the two Merlyn's at the front.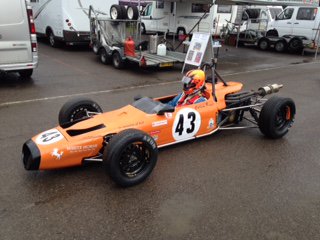 On the opening lap Callum pulled a comfortable buffer over Tusting, the next few laps Ben managed to get the tow off Callum down the straight and managed to haul him in. They battled swapping positions every lap till they were three la[ps from the end, when Tusting made a mistake and dropped a few seconds behind, this gave Cullum the opportunity he needed to pull out the gap to a comfortable 4.5 seconds.
Round 1:
Callum: 1st - 25Pts
Neil: 7th - 8Pts
Race One Video: https://www.youtube.com/watch?v=_VXZOLzx-sY
Race two video: https://www.youtube.com/watch?v=rwjQQhFovzc

Last edited 5th May 2016.